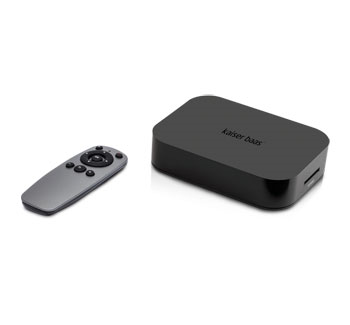 Feb

06
Tags
Related Posts
Share This
Kaiser Baas Smart Media Player Review
When life gives you lemons, get a refund
There are not many products that I've used and wanted to take back to the shop within minutes of purchasing, but this is one of them.
There are many Android Media devices available online, but this was the ONLY one I could find that I could actually buy from a bricks and mortar store – usually a good sign for a product. In this case, I'm baffled at what I bought.
The Kaiser Baas Smart Media Player makes some big promises. In Australia, it's currently exclusive to JB Hifi for $128. Part of me wonders if this is because Kaiser Baas couldn't convince any other store to sell this product. This may sound harsh, but after using this device for a few hours I'm not sure how it can be actually sold in its current state.
I had high hopes for this device. Running Android 4.2, it's a small box with remote that is supposed to fulfil all of your dreams of media consumption. Taken from their website:
Enjoy internet browsing, music, video and picture files in full HD, via your TV.
I'll stop there already, because I didn't enjoy it. Out the box, I realised it was only working at 720p. I thought that was strange, but wanted to see how it would play videos as that was the main purpose I had in mind for it.
It plugged in and worked really easily at first; a minute or so of waiting brought up a very basic menu of options. Choosing the 'Video' option took several presses of the buttons on the remote, because it either didn't register a press or delayed it so much that I was going back and forth over the icons until I eventually landed on 'Video'.
Successfully clicking 'Video' brought up the Play Store, asking me to download MX Player and then showing adverts. I was a bit confused at this stage – the video app they use wasn't actually pre-installed on the device? I was looking for XBMC anyway, due to having used the excellent software media player previously  so went back to the main menu and then to the Apps section, where I found XBMC waiting amongst several other apps.
Many unsuccessful button presses later, I managed to connect to a SMB share and tried playing a mp4 file of the reasonably low but common resolution of 720 x 404. That's not 720p by the way – which is 1280 x 720 – it's less than half of that.
The video was incredibly choppy even though the audio was fine. It could have been an issue with the file – so I tried a few others in different formats and had similar experiences of laggyness and chopping out of picture. While playing any of these low resolution videos, if I brought up the menu to navigate to a different file the picture itself would almost freeze under the obviously extreme load I was placing on the device!
After going into the settings I worked out how to default the output to 1080p and unsuprisingly it made videos play even worse.
Using this device reminded me of using a family or friend's Windows XP PC they've had since 2003 which is 'running slow': you have to painfully wait for every single little action you do while resisting the urge to smash something.
The specs of this device sound quite reasonable as per their official website. Based on these, I wasn't asking it to do anything it wasn't advertised as being capable of.
I remembered that the device auto-loaded some webpages in Chrome when I first started using it, one being YouTube. Just to check my sanity, I went back to the YouTube page and played one of the videos showcasing a Kaiser Baas product. It couldn't even manage to play that video smoothly; it looked more like a flipbook of images.
It was at this stage that I calmly packed all the parts back into its original box, planning to take it back to the store the next day for a full refund.
As a comparison, the popular Raspberry Pi can run XBMC very smoothly. Specs wise the Raspberry Pi is much weaker, but also not having to worry about the Android overhead.
I don't believe this is a reflection of Android, but more of a problem around hardware specifications. There's a huge difference between being able to do something and being able to do something well. All this of course is just my opinion and observations. Your experience may differ – for your sanity I hope it does.
---
Editor's note: this article was originally published without sending a draft to the vendor for review, as was site policy at the time.  In light of this, the vendor was offered the opportunity to write a response and have it published, but has thus far declined to submit a response for publication.