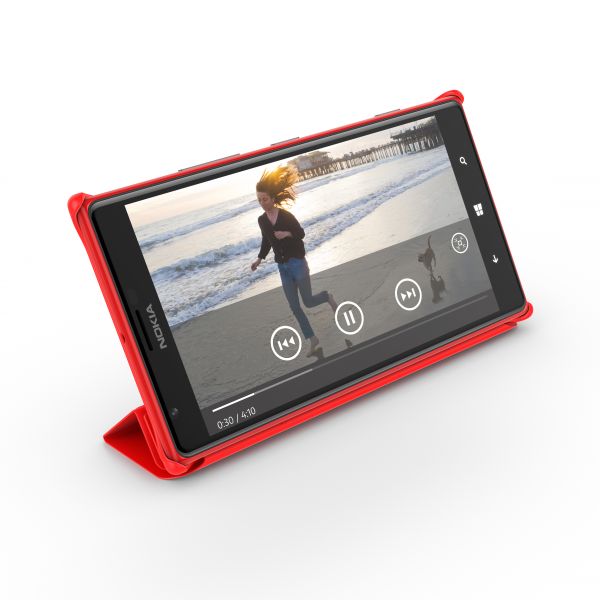 Feb

06
Tags
Related Posts
Share This
Nokia Lumia 1520
Nokia's shot at the growing phablet market
On the 11th December 2013, Nokia released its latest Windows Phone in the Lumia range – the 1520.
Following up from the Lumia 1020 with its flagship 41 megapixel camera, Nokia went for a different extreme on the 1520 with a 6 inch display.
Other impressive specifications include a full HD 1920 x 1080 resolution on the giant display, a 20 megapixel camera (which is still better than most other smartphones on the market), a quad-core processor, and finally a 3400mAh battery. That beefy battery is supposed to provide 32 days standby time, and my heavier real-world use averaged 2 to 3 days between charges.
Software-wise, this is the first phone to run Nokia's "Black" update which will end up being available to all Lumias, so that's no reason to consider this particular phone. The hardware is what makes it or breaks it, so that's what this review will focus on.
Good
Weight wise, it's not a light phone at 209g. It is much heavier than an iPhone 5S at 115g or a Samsung Galaxy Note 3 at 168g, but I don't consider it too heavy.
The screen is the number one reason I'd recommend this phone. The amount of real estate you get will make you reconsider using a laptop to do lighter tasks, and the large number of tiles you can fit on a single screen means you can glance at your phone and see everything you need to know.
The long battery life means that you're much less worried about charging your phone at every chance you get, which is a refreshing change from most other smartphones.
Bad
There is only one official case for the 1520, and that's the CP-623. It's the standard 'clip on the corners' cover that most other Lumias have available, but with an added protective flap. The flap doubles as a stand, but it's not stable enough to actually use the phone while in stand mode. It can only be stood sideways, and many things don't actually rotate sideways (like the all-important home screen) so it has very limited functionality.
Other accessories like official charging stands and car chargers don't fit this gargantuan particularly well either. They do work, but it's a bit of a balancing act to put the 1520 on a charging stand, and a very tight squeeze to fit in the car charger when the official case is attached too.
Other
I'm still not sure if the size of this device is a good or a bad thing, and that should come down to individual taste. When I first held it, I thought it'd be too big. Initially it felt a bit weird both sitting in my pocket as well as just holding it, but after a week or so I'm now used to it. I came from a Nokia Lumia 1020 which is still a decent 4.5″ screen, but this phone does take some getting used to.  You're going to need a large pocket to carry it around.
Summary
The Nokia Lumia 1520 is a solid phone. It's faster than any other Lumia before it, with the best battery life and screen so far in the Lumia range. Once you get used to its size, it may end up being your default 'go-to' device for most basic tasks, as it's already in your pocket (or half sticking out of it). I'm already worried how I'd go back to a smaller phone, and that's a good sign.