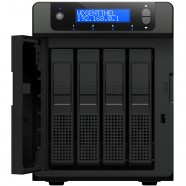 Apr

21
Tags
Related Posts
Share This
WD Sentinel DX4000 Part 1
Could your elderly aunt really set it up?
One of the main selling features of the Western Digital Sentinel DX4000 is that it is supposed to be easy to set up and install. But how easy is "easy"? Is it really "plug-and-play"? Could your proverbial Aunt Millie do it? And, most importantly, how many different ways can we break it?
More than a few, as it turns out. But don't hold that against Western Digital; for that you blame this guy. You are unlikely to encounter many hiccups during installation unless you are as obsessively interested in voiding warranties as he is.
If it is not done perfectly by-the-book, the setup of the Sentinel DX4000 is not as fast or smooth as advertised. If you do everything according to plan it is certainly within acceptable parameters. Let's take a look at my experience with the device.
Out of the box
The DX4000 ships with an ethernet cable, two AC adaptors, and a Quick Install Guide, which is the dead tree version of the pdf found here. The adaptors caused some momentary head scratching. Redundant power supply? Sounds good! The Quick Install Guide says to only plug in one of them. Then a little later, in a contradictory paper insert, it depicts plugging in both. (Aunt Millie furrows her brow in confusion.) I plugged in both. Nothing broke.
The ethernet cable is a perfectly nice ethernet cable. It's also kind of short. Instead of using it, I plugged in a longer cable that was handily lying around the office and which reached to the router from my workstation. Cue ominous music.
Setup
After you power on the Sentinel DX4000 for the first time, it will run its OS install – which takes a few minutes – and then display an IP address. You can navigate to the IP address via a browser, download the setup wizard onto your client computer, and follow the detailed instructions and screenshots in the Quick Installation Guide. Simple.
When I tried to talk to it via a browser, I got this:
A bit of Googling revealed that a handful of others have had this problem with the DX4000. However, none of their troubleshooting suggestions got it working again.
Things were looking bleak when I remembered the too-convenient long piece of ethernet cable. On closer examination, it showed signs of age. Also signs of being crimped by heavy pieces of furniture placed on top of it, and scuffs from being repeatedly run over by wheeled office chairs.
Oh.
Once the cable was fixed, I blithely ignored the section of the Quick Install Guide which stated, "Do not interrupt the process. Do not Power off or disconnect the WD Sentinel server." After the server had been restarted – this time with reliable network connectivity – the DX4000 worked as advertised.
At this point in the setup, the DX4000 asks for some basic information (the name of your server, an administrator password, and your preferred update settings) and the installation begins. It is automated and takes about a half hour. You don't need to do anything more than eat a sandwich and watch the progress bar.  Or check to see if the server is about to light itself on fire. Just kidding. That's only if you share an office with Trevor Pott.
A small detour, containing no electrical fires at all. Really.
Huge disclaimer: what happened to me next is in no way typical of the installation process, nor should it reflect poorly on Western Digital. As a matter of fact, it was a great opportunity for me to discover that WD has built in an emergency thermal shutdown mechanism, which works like a hot damn, pun not intended.
The backstory, of which I was unaware, is that my office-mate/husband had got to the Sentinel DX4000 before me. As he does with pretty much every piece of review hardware that crosses his desk, he disassembled it to find out what was inside. (Want to learn what he found? Check out Part 2 of the WD Sentinel DX4000 review.) When he put it back together, he didn't re-connect the fan.
Just before reaching the end of the automated install, the server spit out an error message about the dead fan and then shut itself down. It wasn't quite hot enough to cook breakfast on. The review session got transformed into a date with a Phillips screwdriver and the innards of a server that I really, really hoped wasn't permanently damaged.
Cooking a server partway through its first-time installation is one of the meaner things I can think to do to a device (barring the actual use of firearms), and I had no idea how the DX4000 would respond. It pulled through quite well.
It had to rebuild its own array (4x 4TB Hitachi SATA drives) from scratch, which took just under four days. When it finished its rebuild it let me pick up with the installation exactly where I left off, and remembered the information that I had already given it. It has had no discernible performance problems since.
What was supposed to happen
The second part of setting up the DX4000 involves connecting your first computer to the server. This should be the one that will be used by the network administrator. If your server is not on fire, this should proceed quickly. Give the computer that you are using a name, pick some backup settings, and watch another progress bar. This can supposedly take up to half an hour, depending on whether or not you already have the necessary .NET framework installed. It took about half that time on my machine.
Worth noting: if you are using a Windows computer for this part of the process, it won't work unless you have the most recent Windows Updates installed. You might see an error message even if your computer is up-to-date, but this can be vanquished by re-starting your computer.
Although the Quick Install Guide that comes with the Server states that you have to set up the administrator on a Windows client computer, it looks like WD has made some updates so that you can now use a Mac for this purpose as well. Check out the documentation here.
The verdict
So should you let your Aunt Millie set up a WD Sentinel DX4000 by herself? The only quibble about the DX4000 is that if you encounter an issue early in the setup process, there won't be much to help you in the Quick Installation Guide or in the FAQ on the Western Digital website.
We've proven that the setup process is not completely idiot-proof, so Aunt Millie should probably keep the WD Support contact information close to hand, or the number of her tech-savvy niece or nephew. After all, what are the odds that she'll do everything exactly the way that the manual says? The process is not robust and a misstep will throw a wrench into it.
More to the point, though, the DX4000 should be a snooze for a small business sysadmin or a skilled end-user to set up. As long as you don't have a dodgy network cable or a sadistic nerd trying to set the server on fire, the process will take about an hour, most of which will consist of watching a progress bar. So yes, the DX4000 lives up to its "easy to install" propaganda.