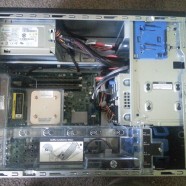 May

22
Tags
Related Posts
Share This
HP ML310e Review
Stuart's big break!
Being a VMware guy, I needed a VMware cluster to train and learn on. The old cluster of a DL385 and a NL40 wasn't really cutting it and was LOUD. Therefore, I decided it was time to upgrade. I was interested to play with the concept of nested VM's and build a virtual cluster inside my HP ML310e. So in essence, what's it like? It's sexy, very quiet and power efficient (as denoted by the e, whereas p means performance, in terms of more powerful CPUs, etc.)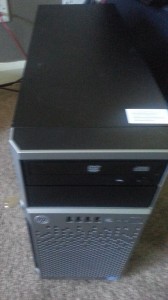 The model I have is the base model, Xeon E3-1220-V2 with a single SATA 7,200 RPM disk and maxed out to 32 GB RAM. This is fine as it is just a test lab. It would also make an excellent small office server as well if an additional disk where added. The standard 2 GB of RAM is a bit miserable but you do have another 3 slots for your RAM unless like me you're a VMware nerd who crams in as much RAM as possible. The hardware is ideal for a nested cluster. The Xeon E3-1220-V2 has both VT-D and EPT (Hardware look aside buffer in other words) onboard. This means it has all it needs to deal with nested VM's in hardware rather than software, so the performance is still excellent.
So, let's start with the cosmetics and the outsides. The G8 has a face lift and sports a cool metallic grill. One of the things I didn't like about it was the fact that to actually get into the box you now have to use a key on the side of the unit. That in itself is not so bad, but you once you have the lock in the unlock position you can't remove the key, so you will have to keep it locked or just leave the key exposed. The ILO is a shared port affair and doubles up as the first of 2 Gigabit network sockets. That isn't an issue, but if you have a separate management LAN you will need to use a VLAN. If you have one address range for everything, you will encounter no issues. As is part of the course with HP, if you want to use ILO to interact with the console after POST, you will need to buy an advanced license.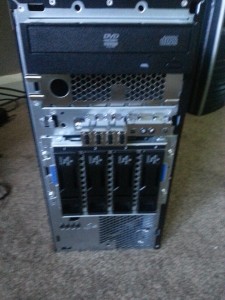 The insides are pretty much what you would expect for the base model DL380e. It has a nice disk array at the front that is accessible by removing the front cover. The disks are not hot-swappable in this model. When you power this server up, earlier be prepared for a change if you are only used to the G7.Whereas with the HP DL/ML series 7 and earlier, if you where running a lot of RAM (512GB plus) there was a long wait involved whilst the system started with a blank screen. With the G8 you get an instant screen so if you are remote to the machine that it isn't dead.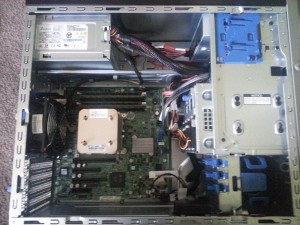 For those not in the know, Smartstart and Smartupdate are things of the past. All the functionality is baked into the box. The only CD you get is the manual disk.
On boot it up it walks you through creating a fully functional server. It allows you to configure the ILO, followed by the familiar HP disk array management. It also uses its intelligent management features to remotely download firmware updates and drivers for the box before you install it. This is the new way of doing HP updates. (As I said, SmartUpdate DVD's are a thing of the past!) Two things to note: Firstly, you can come back at any time and go into the management application and manage updates and configure server properties, and secondly, you can run your own update repo if you don't want to use the one HP provide.
Out of the box (without purchasing yet another license) you can create RAID 0, 1 and 10. At this stage you can install your OS. You can even use the HP Custom ESXi DVD without issue. The DL310e is not on the approved hardware compatability list, so technically it isn't supported but it works fine. The only issue is that it won't see RAIDed disks, but the members only. This means no redundancy for me, but that's fine.
One thing I did note was that you can't just hook up an additional disk via a SATA cable so copying across some virtual machines was problematic. The server on the whole works without issue, quickly and quietly. It can easily support 20 VM's but there are a couple of things you need to be aware of. Firstly, on the DL310e there is no onboard cache RAM for the disk arrays. The problem is that you cannot add any BBWC. That means you either buy a new card or just put up with it.
If you are just getting into virtualization and want to be able to build faux clusters, this machine rocks and for the price of under £600 including 32 GB RAM it is a very solid purchase.