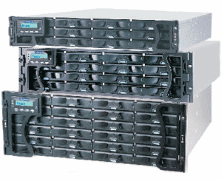 Jun

17
Tags
Related Posts
Share This
Beyond the traditional storage gateway
Unified storage evolved
Bringing together all storage into a single point of management, wherever it resides, has long been a dream for storage administrators. Many attempts have been made to make this possible, but each has in some way fallen short. Some of the problem is that previous vendors just haven't dreamed big enough.
A traditional storage gateway is designed to take multiple existing storage devices and present them as a single whole. Given that storage gateways are a (relatively) new concept, all too often the only storage devices supported would be enterprise favourites, such as EMC and NetApp. Startups love to target only the enterprise.
Around the same time as storage gateways started emerging, however, the storage landscape exploded. EMC, Netapp, Dell, HP, and IBM slowly lost market share to the ominous "other" category. Facebook and other hyperscale giants popularized the idea of whitebox storage and shortly thereafter Supermicro became a $2 Billion per year company.
As hyperscale talent and experience expanded more and more, public cloud storage providers started showing up. Suddenly a storage gateway that served as a means to move workloads between EMC and Netapp, or to bypass the exorbitant prices those companies charged for certain features just wasn't good enough.
Trying to force a marriage between different storage devices on a case-by-case basis isn't sustainable. Even after the current proliferation of storage startups comes to an end, and the inevitable contraction occurs, there will still be dozens of viable midmarket and higher storage players with hundreds of products between them. No company – startup or not – can possibly hope to code specifically for all of them.
Even if, by some miracle, a storage gateway taking this boil-the-ocean approach did manage to bring all relevant storage into their offering one product at a time, that leaves a gap in incorporating whitebox storage, server local storage, and cloud storage.
Eventually, corners have to be cut. Storage providers and even entire classes of storage have to be left behind. A new way to look at storage is required.
Enter ioFABRIC
As storage under management has diversified, customers started demanding the ability to bring all storage types together into one solution, whether that storage is local to the server, SAN, NAS, a whitebox storage node, or in the cloud.
The mantra has become "any storage, anywhere." Preferably with modern features and functionality. Oh, and the ability to move workloads around in an automated fashion. And a pony. ioFABRIC has heard the cries of beleaguered administrators! (Though the pony might be a little out of scope.)
ioFABRIC is intent on unifying all of a company's storage, providing data services across the entire estate and making the movement of data between storage devices automated and intelligent. More than a storage gateway, Vicinity can use storage resources on a local server as cache to boost the speed of storage, send cold data to the cloud, handle data locality concerns through policy, and do it all while maintaining data redundancy and resiliency.
Alerting, logging, monitoring, metrics, and almost every data service you can think of is available out of the box. Integration with VMware, Hyper-V, Openstack, and Docker is included too. ioFABRIC Vicinity is any storage, anywhere, for any need.
ioFABRIC dream big, and deliver. But this is only just the beginning. Automating all storage in a single management plane is the first step. Broader orchestration and analytics follow.
Today ioFABRIC solves the problem of making all your storage accessible and capable of the same things. Tomorrow…who knows? "Any storage, anywhere" may well grow to include elements of dynamism, self service, multitenancy and more. It is the way tech works.
Once all your many and varied types of storage have a single management plane adding features and functionality gets a whole lot easier.