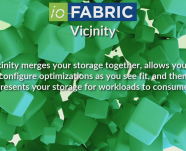 Dec

01
Tags
Related Posts
Share This
ioFABRIC Vicinity 1.7 Video Review
ioFABRIC provided us with access to their software-defined storage platform, Vicinity (version 1.7) and commissioned us to do a review. The short version?
It's good. VERY Good. ioFABRIC Vicinity merges all of your storage together and presents it as a single storage fabric for your workloads to consume, all while allowing you to configure optimizations to ensure the right workloads are using the right storage – fast, high IOPS workloads on fast, high IOPS storage; and slow, low IOPS workloads on slow, low IOPS storage. It deploys either onto bare metal or as a virtual appliance and can be installed and configured in minutes.
In our review video, we explain how ioFABRIC Vicinity works, why it's different from other software-defined storage platforms out there, and show how it's transformed our data center. Check out the video below and be sure to visit ioFABRIC.com/deploy to try it out for yourself!