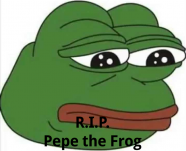 Oct

11
Tags
Related Posts
Share This
Esports acquisitions, Virtual Reality and Political Overtones, Oh My!
Lit Screens 2: Virtual Boogaloo
In the second installment of Lit Screens, I want to talk about some of the recent esports acquisitions and shine a spotlight on the Oculus Rift and the folks behind it. Let's jump right in, shall we?
---
Celebrities, athletes and billionaires investing in esports organizations
Esports investments have been popping up more and more from big-time organizations and individuals. A few weeks back, Team Liquid, an esports organization with a storied history as the go-to StarCraft community website alongside its teams, players and staff, announced the sale of the controlling interest to Peter Guber (co-owner of the Los Angeles Dodgers) and Ted Leonsis (Washington Capitals and Wizards owner) as well as several other investors. Together, they formed a new esports ownership group called aXiomatic, helmed by CEO Bruce Stein.
Just before that, Team Dignitas – another esports organization with a long history across many competitive titles over the last 13 years – also sold a controlling interest to Scott Harris and David Blitzer, co-owner of the New Jersey Devils; and before that Shaquille O'Neal's organization NRG esports picked up team Mixup (formerly Luminosity Gaming) after this candid tweet:
Continuing the trend is electronic music producer, DJ and professional partier Steve Aoki as he invests in team Rogue, who've developed quite a name for themselves in both Overwatch and Counter-Strike: Global Offensive. Steve has been a long-time gamer and is passionate about esports, and after seeing Rogue's dominance in Overwatch over the last several months it comes as no surprise someone invested in the team.
What's of particular interest here is the explosive entrance of investors in the past year. There have been no shortage of sponsors over the esports industry's lifetime, but those have generally been limited to companies trying to push their products or services  into a relatively targeted market – gaming peripherals, applications, energy drinks and the like. We're now seeing the broader sports and entertainment industries really starting to take a hard look at esports and its value. Say what you might about nerds sweating in their chairs, where there's eyeballs there's money to be made, especially when you consider the esports industry is expected to grow by 25% to a total of $500 million this year.
Not everyone is convinced, though. Mark Cuban, famous among the esports circle (aside from his celebrity businessman status) for his $30,000 "swear jar" donation at Intel Extreme Masters San Jose 2015 is in no rush to buy an esports team, citing a confused market and shining the spotlight on the intense and bordering-inhumane grind professional players are expected to make. With so many players getting quickly burned out after months of 12-hour practice days leaving little to no time for other hobbies or social lives, often retiring by the age of 25 (or earlier), it seems wise to keep an eye on the pot for the time being.
---
Oculus Rift founder Palmer Luckey invests in Nimble America
The Oculus Rift has had no shortage of time in the limelight. Being one of the first major VR headsets on the market, backed by Facebook and helmed by gaming messiah and CTO John Carmack (one of the godfathers of FPS, co-founder of id Software and co-creator of Wolftenstion, Quake and Doom) and with one of the most successful Kickstarter campaigns of all time (9,522 backers pledged $2,437,429), the gaming community and tech industry has kept a close watch on all things Oculus. To put it as simply as possible: they make good tech, and got the ball rolling on an industry that's sure to change the way we interact with technology and consume media forever.
However the upcoming elections have everyone in a tizzy, including Oculus founder Palmer Luckey, who was exposed as a Trump supporter in the most questionable of ways: by donating to Nimble America, a "social welfare 501(c)4 non-profit dedicated to shitposting in real life" as they call themselves. Responsible for disrupting the meme economy and value of rare Pepe the Frog memes by turning Pepe into a symbol of hate, Nimble America and the folks behind it are actively trying to use the cultural permeability of memes to reach and influence a generation that's generally averse to traditional advertising and propaganda.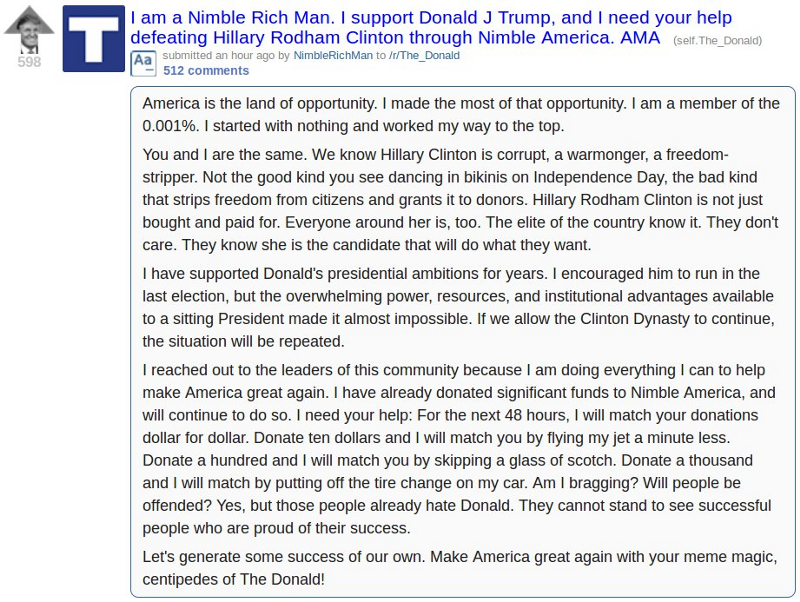 After trying to make his donations secretly, TheDailyBeast outed him as Nimble America's money man. Naturally, the internet backlash was fierce and Luckey responded with the following apology.
I am deeply sorry that my actions are negatively impacting the perception of Oculus and its partners. The recent news stories about me do not accurately represent my views.

Here's more background: I contributed $10,000 to Nimble America because I thought the organization had fresh ideas on how to communicate with young voters through the use of several billboards. I am a libertarian who has publicly supported Ron Paul and Gary Johnson in the past, and I plan on voting for Gary in this election as well.

I am committed to the principles of fair play and Equal Treatment. I did not write the "NimbleRichMan" posts, nor did I delete the account. Reports that I am a founder or employee of Nimble America are false. I don't have any plans to donate beyond what I have already given to Nimble America.

Still, my actions were my own and do not represent Oculus. I'm sorry for the impact my actions are having on the community.

-Palmer Luckey, founder of Oculus
Not everything Luckey is saying seems to add up, however. Gideon Resnick at TheDailyDot had been corresponding with Luckey to seek some clarification and found some holes in his statements, maintaining the nebulous nature of this stain on his career. Oculus CEO Brendan Iribe did some damage control of his own on Facebook, pointing out that Luckey's actions were independent and should not reflect Oculus as a whole.
I want to respond to the recent press stories involving Palmer. I know that Palmer is deeply sorry for the impact this situation is having on the company, our partners and the industry.

Everyone at Oculus is free to support the issues or causes that matter to them, whether or not we agree with those views. It is important to remember that Palmer acted independently in a personal capacity, and was in no way representing the company.

-Brendan Iribe, CEO of Oculus
The most upsetting thing about this whole debacle? The memes killed in the crossfire. Rest in peace Pepe the Frog 2006-2016. My meme portfolio will never be valued the same.