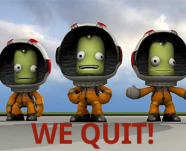 Oct

06
Tags
Related Posts
Share This
Kerbal Space Program devs jettison their (un)payloads from Squad
Squad – the developer behind Kerbal Space Program – has had a bit of a rough year. Their media director 'PDtv' was fired in May of this year. Afterward, he revealed the working conditions of himself and his co-workers at the studio on 4Chan and imgur. Citing long, up-to 16-hour days and unlivable salaries ($2,400 USD/year), once free of NDA he took to the tubes to set the record straight.
Below is an excerpt of PDtv's venting. You can see the full degree of his frustrations here. Several of his co-workers and colleagues corroborated many of his claims on reddit, which you can see here in both the OP and the top comments by /u/r4mon, a modder who worked closely with many of the developers at Squad.
Yesterday, several of the developers at Squad have opted to quit, making their announcement over on the Kerbal Space Program subreddit. While there's no official statement as to their reasoning, one can gather it's in no small part due to the conditions raised by PDtv earlier this year.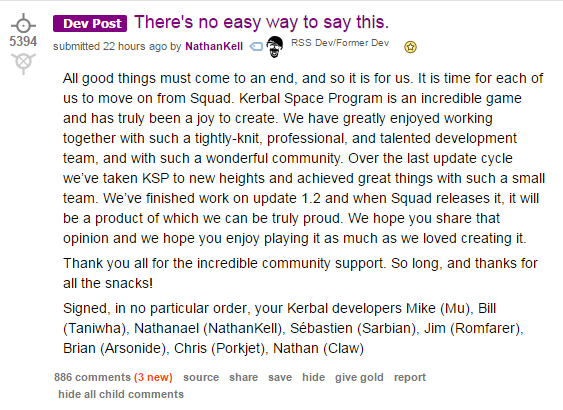 On the bright side, /u/larkin-richards of NASA appears to have extended them job offers. On to bigger and better things?