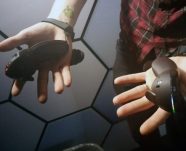 Oct

14
Tags
Related Posts
Share This
Lit Screens: Killer robots, exploding phones, and new controllers
This week on Lit Screens: Killer robot hordes, blow up your house with a smartphone, crash a biplane into someone's chest or save the president by throwing your crotch in his face.
Blizzard launches its first PvE event in Overwatch
Blizzard launched its first PvE event this week: Halloween Terror! Everyone's favorite tank Reinhardt tells a tale about the legendary Dr. Junkenstein and his creations. You and three other players fight wave after wave of suicide-bombing robots and super-tanky Reapers, Roadhogs, Mercies and a Junkrat spamming grenades with infinite ammo. It's a fun change of pace from the strictly PvP-based main game.
Once again, Blizzard shows its mastery over creating a universe and putting it to work. Players were already clamoring for an Overwatch campaign, saying they'd be willing to put out additional cash on top of the $40 main game if they were to ever put one together. Halloween Terror is very derivative – you defend a point  against hordes of zombie-like machines – but that hardly detracts from the fun. The same could be said for nearly anything Blizzard has ever done: Blizzard is the best in the business at taking something familiar, putting their own spin on it and knocking it out of the park – especially when it comes to PvE content.
Halloween Terror is completely free if you've already got Overwatch, and along with the new brawl mode there's a handful of fun new skins, voice lines, victory poses and other cosmetic content that you can use in the main game.
---
Samsung axes the Note 7 permanently
Samsung fully recalled their flagship phone, the Galaxy Note 7 earlier this week. After an initial recall due to the phone exploding or lighting on fire, they went back to the drawing board and issued patches limiting battery life and fast charging. A few weeks have passed since then and the issues have not been resolved, so Samsung has gone with a full, permanent recall and even gone so far as to offer a $100 credit for those who return their devices, strongly urging users to power down the device and turn it in before any more harm is done.
Samsung had only just begun to start to take significant market share last year from its biggest competitor, Apple, and the recently released iPhone 7. Now, they've lost upwards of $26 billion dollars of market share since the recall and their stocks are the lowest they've been all year. Engineers reportedly couldn't figure out what caused the thermal problems after rigorous testing and discovered post-mortem that the problems were due to a defect in the battery. As someone who's sorely disappointed with the shift to phones without removable batteries, this is at the very least a point for the cause.
The US Department of Transportation has even banned all Samsung Note 7 devices from planes. Exploding phones aren't exactly good for your health, or that of a flying machine. Samsung is allegedly considering ditching the entire Note brand, doing whatever they can to put this fiasco behind them. They're taking the high road it seems, considering they haven't removed this GTAV mod (which would piss off the internet in ways unforgivable).
---
Battlefield 1 demo playable for Origin Access subscribers
On a more positive note (heh), Battlefield 1 is now officially playable for those who're subscribed to Origin Access ($4.99 or £3.99/mo) as a demo for up to ten hours.
There's a few limitations: Only four of the multiplayer maps are included, as is the first two single player campaign missions. It's not a bad deal, as it doesn't require you to have actually bought Battlefield 1 – but it does give you the chance to download the game and get ahead of the curve as well as gives reviewers the opportunity to publish their thoughts on the game as it approaches its October 21st release.
So far, the demo launch and beta appears to be going smoothly.You might, however, have to deal with hackers.
---
Trump is a filthy Hanzo player
The internet has been pushing tons of satirical content surrounding the current American election. For example, Trump has been outed as a filthy Hanzo player in Overwatch:
https://twitter.com/GHOSTFXCKER/status/786753908332982272
If you're starting to feel sorry for him, you can take up the mantle of Dick "Rock-Hard" Johnson , a bulletproof man tasked with being the bodyguard for the candidate, in the new indie game "Mr. President!"
You fling your body in his general direction and attempt to get in the way of the bullet. Whether you do that with your chest, your crotch, by drop-kicking him in the face or just tackling him is up to you.
---
New controllers surfacing for Oculus Rift and Steam VR
In the world of VR, new info has surfaced about the controllers of the future. On the Oculus side, they've revealed the price for their upcoming Touch controllers at $199 during their Oculus Connect event, and are taking preorders now with a December 6th ship date. Rift owners who've bought their device through Oculus.com get priority access through until October 27th.
The controller package includes two bundled titles: The Unspoken and VR Sports Challenge, as well as a connector for Rock Band VR. You can purchase the controllers separately or as part of a complete bundle with the Oculus Rift for $798, comparable to the HTC Vive which also comes with a pair of controllers.
Speaking of which, Valve showed off their prototype Steam VR controllers at Steam Dev Days. They've got a relatively unique design in an attempt to veer away from the relative bulkiness of the current HTC Vive controller. A padded band wraps around your hand and suspends the ergonomic device in your palm, letting you do throwing gestures and other instinctual motions that you otherwise couldn't do with a controller that's simply strapped to your wrist.
More photos of the new Vive controllers! #SteamDevDays #Vive #VR pic.twitter.com/o99QHPZvvD

— Shawn Whiting (@shawncwhiting) October 12, 2016
There's no telling just yet when we'll see the consumer versions of these devices, but they appear to be a promising step forward in terms of VR controllers.