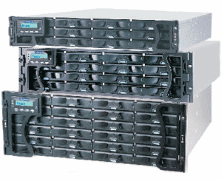 Nov

21
Tags
Related Posts
Share This
Make a #WebScaleWish
Giving of your expertise can be as powerful as buckets packed full of money
Today, November 21st, is the last day to submit a non-profit organisation to Nutanix's generous #WebScaleWish datacenter makeover bit of "giving back to the community".
Nutanix does one thing – Enterprise class hyperconverged server and storage systems – and it does it well. The #WebScaleWish project is Nutanix's way of giving back. Instead of simply plowing money into a random charity they're using their expertise in their chosen field of endeavour to try to make a chosen non-profit more efficient.
I've spend a lot of time with Nutnaix staffers. They honestly believe that using hyperconverged infrastructures – rather than the more traditional compute node + networked SAN – will streamline IT operations for companies. The result for enterprises is ultimately lower costs.
What's important is how you get to those lower costs. You get there by being able to remove a lot of administrative burdens from systems administrators. This frees those systems administrators to do something more profitable with their time, saving the company money. But let's look at what Nutanix could do for a small non-profit.
KiN
I nominated the Kaslo infoNet (KiN) for Nutanix's #WebScaleWish. KiN is a non-profit dedicated to bringing high speed internet to underserved communities along Kootenay Lake in British Columbia, Canada. On an absolutely shoestring budget they are putting up wireless towers for microwave backhaul and trenching Fibre-to-the-Premises in the town of Kaslo.
The local incumbent telcos had shown zero interest in providing usable broadband service to the town of Kaslo or the surrounding area. The towns along Kootenay lake have been struggling for years because of this; they struggle attract top talent – or top tourists – because of the abysmal state of telecommunications in the area.
Beyond economic concerns, the KiN project promises to prove transformative for the isolated communities on Kootenay lake. Once enough infrastructure is in place and affordable internetworking becomes possible to these areas, bandwidth heavy uses of the internet – such as telemedicine – become possible.
Reliable broadband internet access opens entire communities to the talents and expertise they simply don't have locally. Beyond just access to the world wide cap picture database, KiN could one day save lives.
Like most non-profits – especially rural broadband efforts – KiN doesn't have a lot of money. They won't until they manage to get the infrastructure built and can start charging for access. Even then, debt repayment and ongoing infrastructure maintenance will eat most of the budget. Anyone who has worked for a non-profit knows the story well enough by now.
But the telcos aren't your friends. They have, in fact, thrown up every legal and procedural roadblock they possibly can. If there is a way to deny KiN interconnection with their networks, or affordable backhaul access to the national fibre grid, the telcos are engaging in it. KiN and other similar projects all across Canada face mounting legal costs and rising connection costs, even before many of them have gotten their fibre into the ground!
Nutanix Inside
With all the above in mind, winning Nutanix's #WebScaleWish could be transformative for the nascent project. KiN's technical resources are stretched to breaking as it is, but they have ambitions to me more than just a "dumb pipe". With FttP being trenched in, KiN believes that they could build a regional public cloud dedicated to serving the needs of their subscribers.
By offering business-class e-mail, cloud storage, web hosting and eventually virtualised compute KiN could simultaneously help alleviate a painful shortage of local IT talent and reduce the amount of traffic that has to go over its backhaul network and across the increasingly expensive telco interconnecting links.
This drives down the costs for everyone, making internet access more accessible to the entire community. It also makes modern, professional, centrally managed IT services available to individuals and businesses who otherwise either flat out wouldn't have access to these services, or wouldn't be able to realistically afford them.
Consider, for a moment, the simple concept of backing up files (or entire servers) into the cloud. A single small business can cheerfully have terabytes of information to back up. That's expensive to store in the public cloud in its own right, but the data costs of getting it there border on ruinous at the rates that the current telco provider wishes to charge.
Even when KiN's FttP network comes online, any attempt to actually restore that kind of data by pulling it over the shared interconnect with the local Telco will take quite some time, and prove remarkably expensive to the KiN project as a whole. The drives up the rates KiN has to charge its subscribers, potentially keeping from being viable for some people.
A Nutanix datacenter makeover could change a lot of things for KiN. It could, ultimately, help change things for an entire community.
In this way, companies doing "in kind" donations along the lines of their own expertise can make the world a better place. This is but one example of how there is more to "giving back" than just dumping money on a big name charity.
So, regardless of who wins, thanks Nutanix. It's a nice thing you're doing..