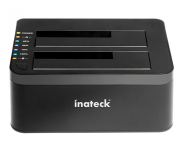 Mar

13
Tags
Related Posts
Share This
Inateck FD2002 Dual Bay USB 3.0 HDD Docking Station Review
The Inateck FD2002 is a dual-bay USB 3.0 HDD docking station. It's plug and play, doesn't require drivers and most interestingly has a built-in, offline clone function at the press of a button. Put drive into slot A, another into slot B (drive B must be equal or greater in size to drive A), press the clone button and it will copy the data over automatically (all you need to do is power the device, no computers required).  Here's the specifications from Inateck:
Product Type
Inateck FD2002
Weight
410 g / 0.903 lbs
Offline Cloning
Supported
Supported Capacity
Up to 4 TB
Color
Black
Supported Drives
2.5″/3.5″ SATA I/II/III HDD/SSD
Interface
USB 3.0
Material
Plastic
Hot Plug, Plug & Play
Supported
Licenses
CE, FCC
Measurements
150 x 109 x 60 mm (L/W/H)
5.91 x 4.29 x 2.36 in (L/W/H)
Operation Environment
Storage: -40 to 70 °C; Operation: 5 to 55 °C
OS Support
XP/Vista/7/8(32/64-bit), Mac OS, Linux
As someone who has worked on the bench and regularly tests hardware for not only benchmarking/performance purposes but maintenance as well, the FD2002 strikes me as an handy tool to have on-hand, especially if you're in the business of swapping out and dealing with hard drives in bulk. The USB 3.0 "super speed" interface provides transfer rates and latencies comparable to a normal SATA connection.  Hell, it even beat out the old Maxtor drives (left) I have inside my primary workstation:
We used a pair of Seagate ST2000DL 2TB hard drives for our tests, which are 5900 RPM green drives. To see speeds like this out of a hard drive, let alone one running at a lower speed AND is attached externally is quite impressive. The Inateck FD2002 utilizes USB-attached SCSI (UAS) over traditional Bulk-Only Transport (BOT) drivers, which allows for higher much faster transfers. For $40, it's hard to go wrong with this much utility.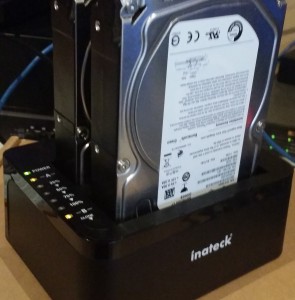 The clone feature works exactly as you'd expect it to. I loaded up a few gigabytes of media onto one disk, inserted another ST2000DL, pressed the clone button and a few hours later I had a cloned drive. The benchmarks here are respectable as well, here's a look at the results from IOmeter and CrystalDiskMark.
Inateck doesn't aspire to do anything revolutionary or overly ambitious with something like the FD2002, but it does work and it works damn well. If you ever find yourself in the position where you need to swap around hard drives in bulk, run a pile of tests or even want to simply upgrade to a bigger hard drive, the FD2002 can save you a bit of time and many a button click