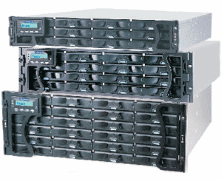 Aug

04
Tags
Related Posts
Share This
VMworld 2015 HOMELAB GIVEAWAY
VMworld 2015 is coming up fast, and that means CONTESTS!
vExperts always get the extra-special treatment, and this year is no exception. Catalogic Software is looking to lead the pack by giving away a complete turnkey VMware homelab kit to one lucky vExpert or NetApp A-Team member. This is a serious prize that has even us at WeBreakTech drooling. What can I say, we're suckers for flashy hardware!
Up for grabs is a complete homelab package, decked out with the following:
2x 2U servers w/ quad-core Intel processor and 32GB  DDR4 memory
$300 to soup up the lab, customize it or to pick up a rack
Now that you're foaming at the mouth, I'm sure the next question on your mind is something along the lines of "shut up and tell me how to sign up already!" Good news is, it's quite simple and shouldn't take longer than 10-15 minutes for the savvy vExpert and A-Team nerds.
Head over to Catalogic's contest page here, where you'll find a selection of questions related to Catalogic's bread and butter, copy data management. Choose one of them and answer it in 300 words or less in the comments section of that page; or post a meaningful reply to another commenter's response. Remember to restate the question at the beginning of your comment, or refer to the original post if you're replying to someone. You're free to submit as many entries as you'd like – the number of submissions isn't considered, but rather their individual merit – so you're still increasing your odds. The contest ends on September 2nd, 2015 and the winner (who need not be physically present at VMworld 2015) will be announced on September 3rd, the final day of the conference.
The winner will be selected based on a panel of judges consisting of Catalogic employees and independent third parties who will review the entries, debate vehemently and eventually come to a final decision. Their criteria will primarily be based on merit, which is to say:
Their originality, substantiation of their argument with data and/or real-world examples (standard fare for any internet forum),
Clarity of their argument (300 words or less!),
Demonstrated technical expertise or in the subject matter,

Incorporation of business values to substantiate the argument, and

Overall value to the community
Don't forget to leave all of your contact information on the contest page for Catalogic to track you down when you win big. Get your responses in soon, and keep checking in on the discussion. The winner will be decided in less than a month!