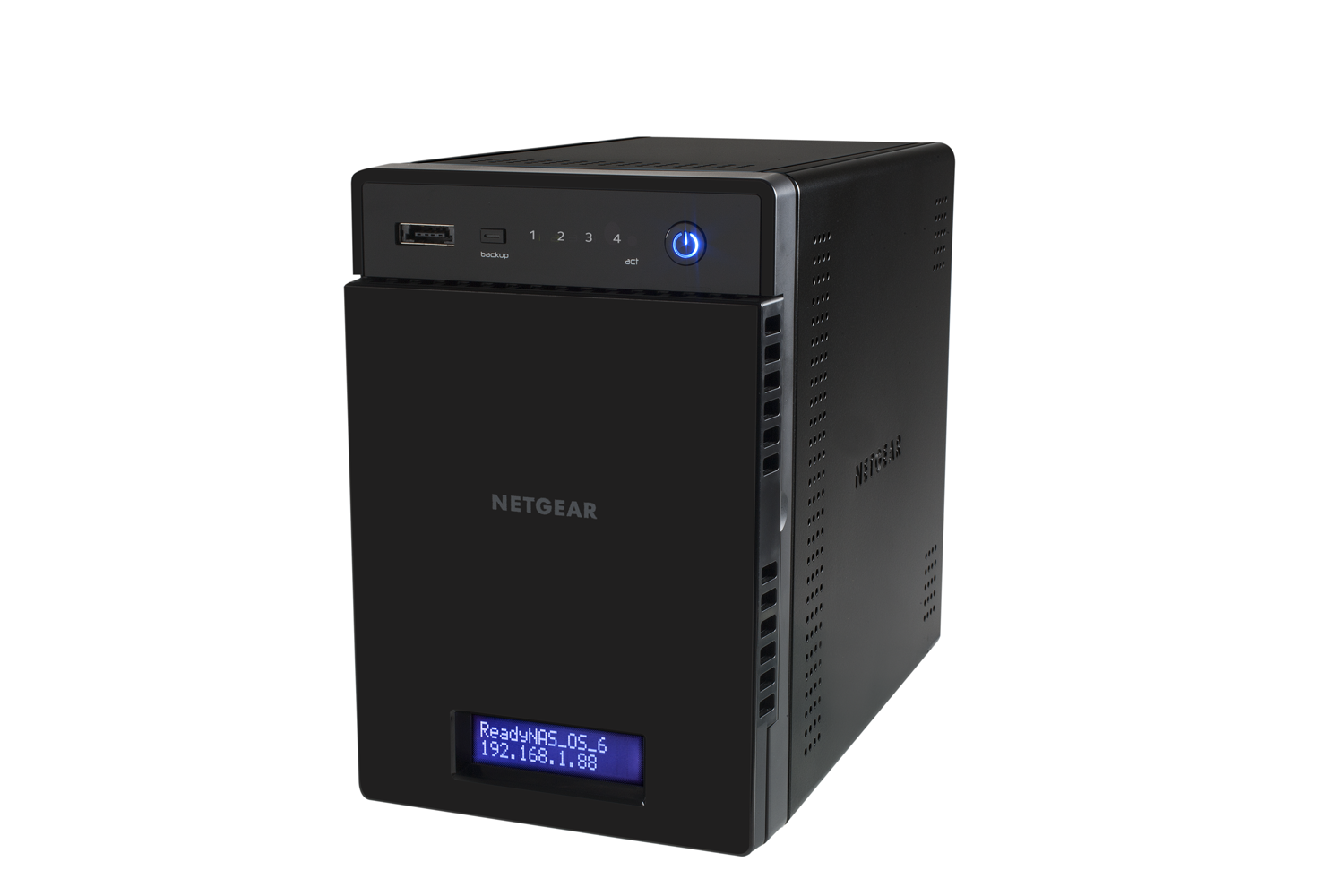 Dec

12
Tags
Related Posts
Share This
Review: Netgear ReadyNAS 314
A little dated, but gets the job done
The Netgear ReadyNAS 314 (RN31400-100NAS) is a four-bay network attached storage (NAS) unit that retails for approximately $650 USD (without disks). It sports two gigabit LAN ports (that can be bonded), two USB 3.0 slots, 2GB of DDR3 RAM, an 2.1 GHz dual-core Intel Atom processor as well as a single HDMI port on the rear all cooled by a single 92mm fan.
The front of the device has a small screen to display status and error messages, and a shared USB 2.0/eSATA port alongside the traditional status LEDs. The screen immediately came in handy as it pointed me in the right direction on how to set everything up, as opposed to needing to decipher blinking LEDs.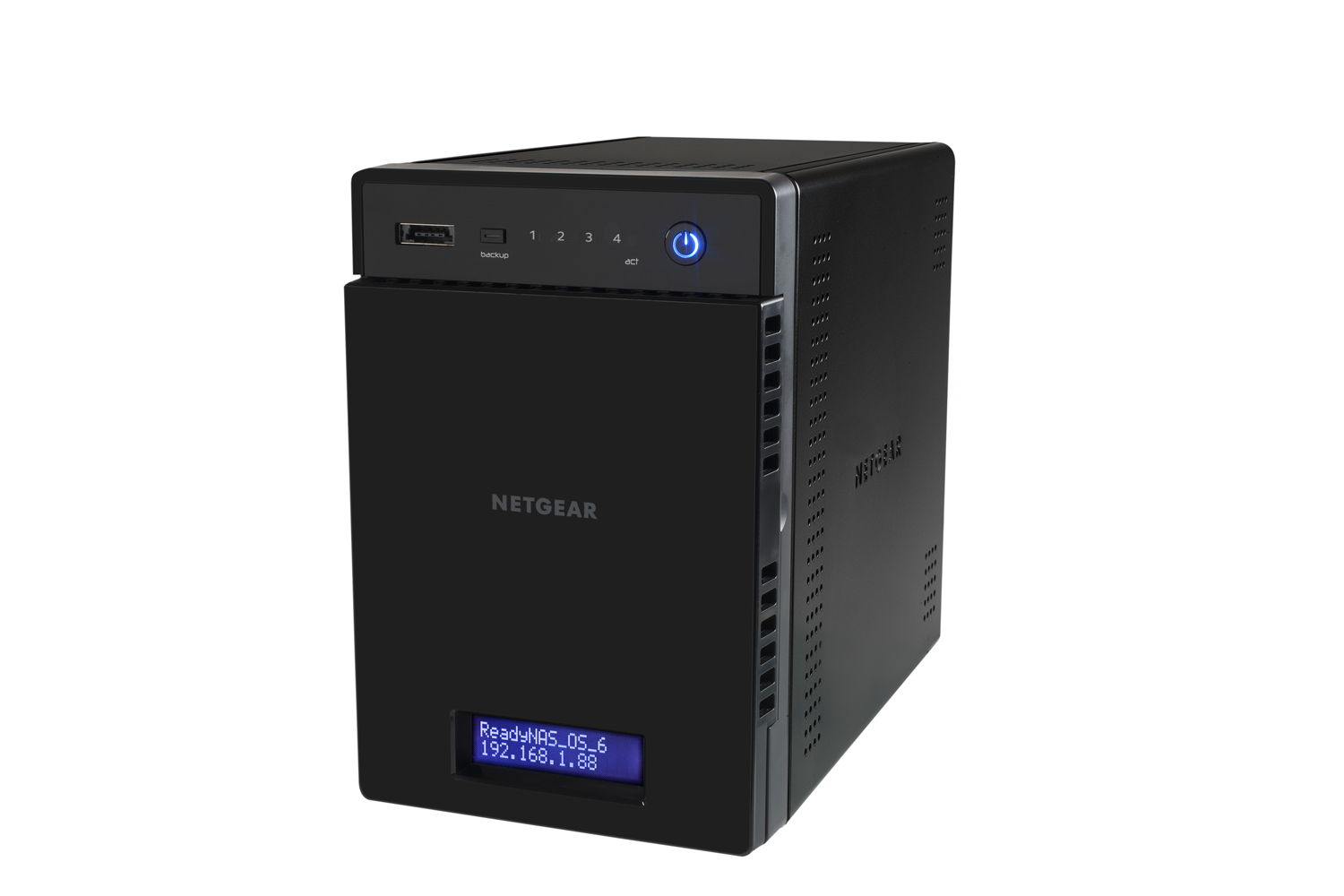 I immediately added 4x 2TB Toshiba MG03ACA200 disks for a total of 8TB with the intention of creating a single RAID 5 array. Adding the drives was quick and easy with the hotswap trays, and the drives come out quickly by removing three screws and detaching the bracket from the rest of the tray.The ReadyNAS 314 supports all of the traditional RAID configurations: 0, 1, 5, 6, and 10; as well as Netgear's X-RAID2 technology which dynamically expands your storage volume as you swap out smaller drives for bigger ones.
As soon as I turned the unit on, it asked me to grab a tool called RAIDar and informed me that the drives would need to be formatted. I grabbed the software from Netgear's site.  It scanned my network for ReadyNAS devices and found the 314 almost instantly, providing me with all of its network information.
Of interest to me (as someone who works in messy and poorly labeled data centers on occasion) was the "locate" button which simply flashes the status LEDs and allows me to find the device easily. I dug up the manual, went through the format procedure (which involved taking a pen to the reset button on the rear) and it went ahead and built me a RAID 5 array.

Configuring the ReadyNAS 314 is made incredibly easy and straight forward with Netgear's ReadyCLOUD software. I created a ReadyCLOUD account and attached the 314 to it and instantly had access to some basic configuration options and status information from the internet, however full administrative capabilities can only be obtained while connecting via LAN.
The admin page doesn't seem to leave much missing as far as functionality is concerned. From here, I can toggle services including NFS, FTP, DLNA, SNMP, SSH and more. Of particular interest is the built-in antivirus that regularly updates its definitions, providing administrators with an additional layer of security. I can also manage shares (and the protocols they use), create new LUNs and groups, create users and connect it with active directory, control power saving settings and schedule backups of my data.

Additionally, the admin page provides more status information such as the fan speed of the unit, disk, CPU and system temperatures, and graphs containing metrics for IOPS, network and CPU utilization and finally temperature fluctuations. There really is no shortage of knobs to tweak and numbers  for administrators to look at with the ReadyNAS software. I'm definitely a fan of how much thought Netgear has put into this side of the equation, but how well does it all really work?
I started with some straight-forward file transfers by copying my music library of 185.96GB over. With and without antivirus and X-RAID running (services I anticipated would contribute some performance hit) I saw an average transfer rate of 25-30 MB/s – not particularly fast, but these files were coming from my extant file server that is made of ancient and slow.
Next, I tried copying 36 GB of video work over from my editing desktop. This time around, I saw speeds of 80-90MB/s – significantly more impressive and in line with my expectations. Again, with and without antivirus and X-RAID running on my array – neither configuration seemed to have a significant impact on performance of any sort thanks to the 2.1 GHz Intel Atom processor and 2GB of RAM in the unit.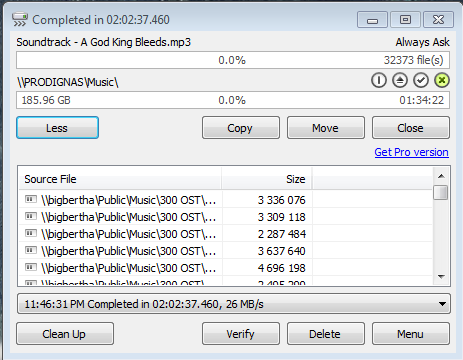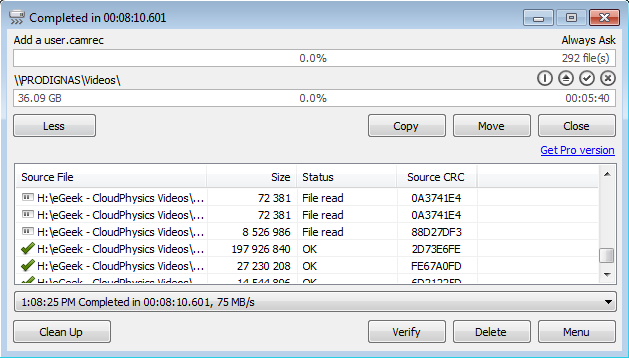 I followed up with some fairly standard IOMeter tests, consisting of 256KB transfer request size in 100% sequential distribution first writing, followed by the same test in reads. I saw a transfer rate of 83.44 MB/s, right in line with what I expected to see after my previous file transfers. Not astonishing in the days of flash caching and PCI-E storage, but perfectly adequate for bulk, cold storage such as backups and media.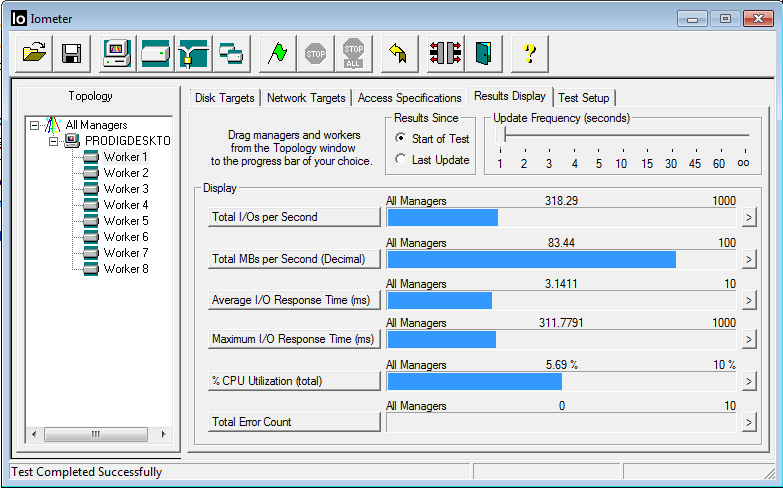 I was pleased to see that temperatures fluctuated inside the ReadyNAS 314 by approximately 5 degrees throughout the tests. I can hear the heads moving, but the fan is far from noisy and the unit is far from the loudest thing in the room. One could cheerfully leave this in their livingroom and have it not be all that much louder than the ticking of a clock.

The last thing on my list of things to try was Plex Media Server – the main purpose of my current file server. I have a Chromecast on every screen in the house not already connected to a PC, and I use Plex to serve local media up to them. I was already surprised enough to see that Plex support existed and there's even a community of people working with third-party add-ons for the ReadyNAS suite of devices.
After a few short minutes of googling, I had the installer downloaded and installed to the device. One reboot later and I was in the Plex admin console configuring my libraries. None of the media I tried to play threw me any problems and now all that's left is to move everything off my file server.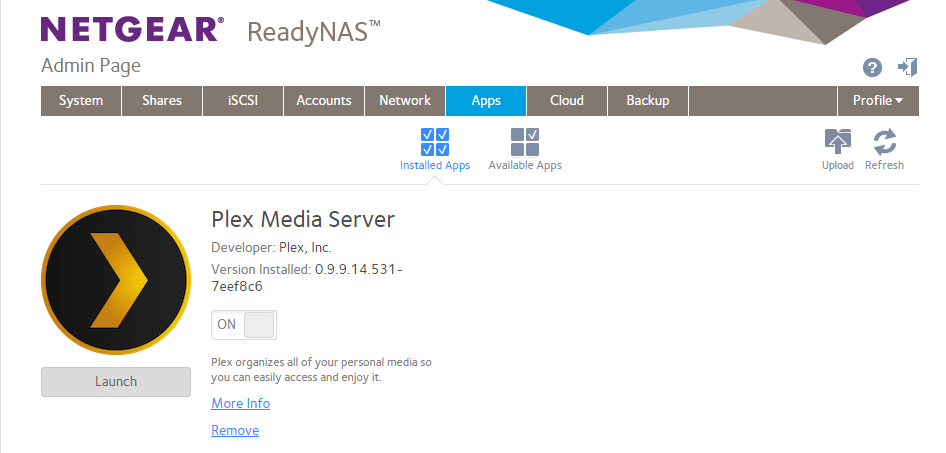 All in all, for $650 (without drives), it does everything my file server does and more – all in an off-the-shelf solution. It's certainly good enough for my personal and professional uses, and I'd venture to say the Netgear ReadyNAS 314 is a solid enough piece of kit to deploy in any small/medium enterprise.
EDIT March 16, 2015: I've moved my entire Plex library off of my file server (which suffered a software RAID failure and had to be recovered over to the 314) and have been using it for a few months. I thought I'd come back and point out that everything is unfortunately not hunky-dory with this NAS running Plex. Any media higher than about 540P will periodically freeze playback during the transcode. Considering most of my media is in HD, this is a pretty big problem.
I've done some poking around the forums trying to find a solution, tried multiple versions and tinkered with the settings, but I still haven't been able to solve this issue. I'm not entirely sure if this is a hardware issue or if Plex isn't fully optimized for this device yet, but I've moved my Plex library on to a beefier server for the time being. Plex libraries take an extraordinarily long time to build (as you can expect from an Atom-powered device) and I've had issues getting it to properly link up all of the metadata.
All that said, my issues with Plex have been the entirety of the problems I've had with the NAS. I haven't been able to make it tick for this one use case, but all others seem to work just fine!